Don't ask what silly Wikipedia tangent brought me to this page, but it's fascinating so I figured I'd share.
From the Wikipedia: the Count of St. Germain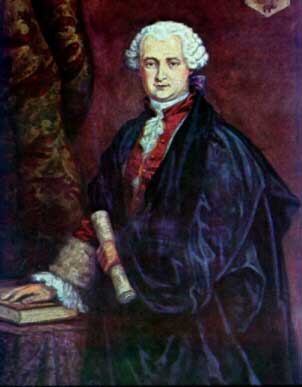 The Count of St. Germain was an 18th-century man about town in London and also possibly in India. He was a charmer, for sure, and apparently a pretty talented violin player.
But the most interesting thing about the Count of St. Germain was that he either was immortal, or — more likely — was able to convince lots of people that he was immortal. Both are pretty impressive.
In fact, in some religions, people believe the Count was also Plato, St. Joseph (ie Jesus' stepdad), Merlin, Christopher Columbus and English philosopher Francis Bacon, whom many believe to be responsible for writing all the plays attributed to Shakespeare. I'm skeptical, but if the Count was even three of those guys, that's a pretty crazy resume.
The Wikipedia claims he supposedly dictated a book in 1670 even though he wasn't "born" until 1710. It's a pretty confusing Wikipedia page in general.
In any case, the Count of St. Germain should be lauded for his immortality or, at the very least, his ability to make Wikipedia editors suggest his immortality.
Fun fact: Pretty soon after I started writing for SNY.tv, I added myself to the Wikipedia page for Rockville Centre, New York, under "Notable Residents" in a vain attempt to drive up traffic. I briefly frolicked among the ranks of Dave Attell, Billy Donovan, Joan Jett, Segway inventor Dean Kamen, Sandy Koufax, Billy Idol [citation definitely needed] and Howard Stern.
Then, a couple months later, someone took me off the list of notable former Rockville Centre residents. I mean, I get that I'm not as notable as Billy Idol, but c'mon. Who took me down? It's just messed up.
And to add to my frustration, two people I know pretty well have since been added to the same list, presumably not by themselves. They are ESPNews anchor and area stickball legend Kevin Connors and Taking Back Sunday drummer and incredibly nice dude Mark O'Connell, and they are both clearly more notable than me.