Does Pedro Martinez make a whole lot of sense for the Mets right now? Nah, not really. He looked pretty good in a very limited sample with the Phillies last season, but the Mets probably need guaranteed innings more than they need promise coupled with the promise of injury.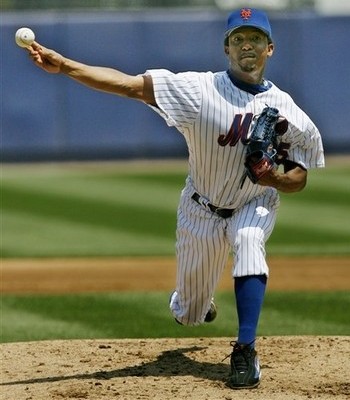 Do I think the Mets will really sign Pedro Martinez? Nah, not really. If they didn't do it last year, when they trying to remain competitive with Livan Hernandez, Tim Redding and Fernando Nieve in the rotation, I can't imagine they'll do it now.
Will I ever, ever say I don't want to see Pedro Martinez back with the Mets? Not a chance.
I've got few rational arguments for the Mets to bring back Pedro next season, but my irrational side is all-in. Pedro, as I've written before, is my favorite pitcher of all time. Even in his advanced age, he's amazing to watch, and no matter how much I can't stand the Phillies, I still found myself rooting for Pedro last season.
Plus, there's always the sliver of hope he'll pitch a little bit like he used to. Heck, he hinted at it for the Phillies, striking out 37 guys while walking only eight in 44 2/3 innings. And, according to Fangraphs, his average fastball velocity was the highest it has been since 2004.
Here's what I wrote in June:
What Pedro Martinez offers that very few others do is the tiny, tiny possibility that he can pitch like some semblance of vintage Pedro Martinez. It's quite unlikely, sure. But his people claim he's hitting 93-94 miles per hour on the gun, and the Rays and Cubs — two teams with more viable starters than the Mets — are reportedly interested.

Redding, unlike Pedro Martinez, has absolutely no chance of ever pitching like Pedro Martinez. He has that in common with Livan Hernandez, Fernando Nieve and the overwhelming majority of humanity.
I'm long resigned to the fact that we'll never again see Pedro anything like he did around the turn of the millenium with the Sox. That's not the type of dominance that can be expected to last, and there's way too much evidence to show he's done pitching like that.
But even at 38, Pedro's upside is probably still a lot higher than any number of people who could reasonably start for the Mets last year. I know this because he's Pedro Martinez.
OK, I'm trying to justify this rationally now and that's not what this was supposed to be about. I just love watching the guy play is all, and it'd be an entertaining thing to see at Citi Field in 2010.