The Savannah Sand Gnats are truly bringing the heat with a first-ever fire promotion at a minor league baseball game on Saturday, August 14 with Guinness World Record Holder, Ted Batchelor. After the Sand Gnats' game against the Kannapolis Intimidators, which will begin at 6:05, and before the evening's fireworks show, one lucky fan will light Batchelor on fire; he will then circle the bases at Historic Grayson Stadium.
Batchelor, 51, owns the Guinness World Record for the "Longest full-body burn without supplied oxygen" at 2 minutes, 57 seconds, set in Rome, Italy on February 25th, 2010. He and his crew also set the World Record for the "most people on fire simultaneously" at 17, on Pizak Farm in South Russell, OH, on September 20, 2009.
– Savannah Sand Gnats press release.
Wow, OK. A lot of stuff here. First of all, apparently people should now be considered "lucky" to light one another on fire. Second, even though this guy is practically begging for a Darwin Award, he's probably awesome.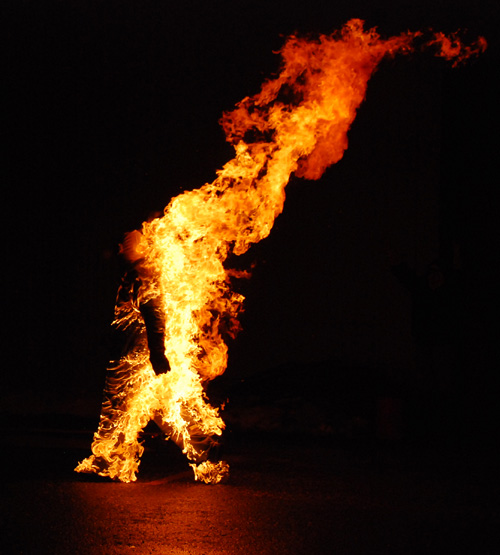 Guest poster/former roommate Ted Burke and I used to name worthy people named Ted to Team Ted, and banish people named Ted who we deemed unworthy to Team Melvin. Clearly Ted Batchelor makes Team Ted with flying colors. He appreciates fire.
Also — and excuse me if this is glib — I'm almost positive 17 is not the record for most people simultaneously on fire. Maybe it's the record for most people simultaneously on fire on purpose, but I have a feeling the unfortunate women of the Triangle Shirtwaist factory would take issue with the benchmark.
And furthermore, good luck following "Dude running the bases while engulfed in flames," Savannah-area pyrotechnics outfit. I have a feeling the fireworks show is going to be a bit of a letdown after they spark up Ted Batchelor.
Finally a visit to Mr. Batchelor's website reveals that this is pretty much what he does for a living, and also this:
Ted Batchelor, a freshman radio-film major enjoys being dragged by trucks, setting himself on fire, sleeping in front of cars, eating glasses in bars and other unusual extracurricular activities.
Ahh… whatever you're into, bro.
Hat tip to @mikexdavis for the tipoff.