Angel Pagan is set to come off the Disabled List on Saturday, meaning the Mets will have to make a roster move. This is a good thing. Something probably needs to change.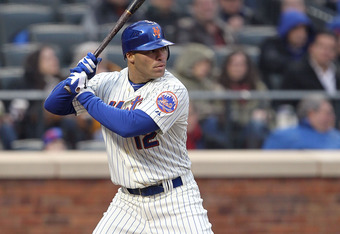 Chin-Lung Hu, Scott Hairston and Willie Harris — the three bench players who have been with the club all season — have a combined .184/.264/.289 line in 114 at-bats. So far, Mets pitchers have a slightly higher OPS than Mets pinch hitters on the season.
I'm going to repeat that for emphasis: Mets pitchers have a better OPS than Mets pinch-hitters.
Hairston, the primary right-handed bench bat, has a .405 OPS against lefties. Harris, the primary left-handed bench bat, has a .540 OPS against righties.
I guess what I'm saying is the Mets' bench could use a shakeup. Or a shakedown. Something.
Let's think about this: If you were only concerned with providing Terry Collins the very best 25-man roster and not at all worried about keeping young players regularly on the field, how would you put together the Mets' bench, using only in-house options?
Figure the backup catcher would stay the same. A platoon of Josh Thole and Ronny Paulino appears to be the team's best option behind the plate.
So you need guys who can capably back up all the other positions, and ideally a good righty bat and a good lefty bat.
I get that you need a guy that can back up shortstop, and finding one isn't easy. But you know how many innings Chin-Lung Hu has played at shortstop this season? One. He came in to relieve Jose Reyes in the bottom of the eighth when the Mets were down 10-0 in Philadelphia on April 29. (The Mets actually scored three runs in the top of the ninth that evening, but Hu struck out to end the game. No bottom of the ninth was necessary. I was out eating a burrito while it all went down; it was delicious.)
Knocking wood extremely hard right now: Jose Reyes has played all but one inning at shortstop for the Mets in 2011. Considering that, would it be so terrible to call Justin Turner the backup shortstop? Turner played 22 games at shortstop in Triple-A last year. He can't boast Hu's range in the field, but given the amount of workload, you've got to figure Turner is up to the task. And when Reyes needs a day off, the Mets could use Turner at short on a day fly-ball machine Chris Young is starting.
The only hiccup there, I suppose, is that when Turner starts against a tough left-hander, the Mets can't take him out of the game for a pinch-hitter lest they have no one to back up shortstop if they need to pull Reyes. But then how often are they going to want to pull Reyes? And if they're forced to take Reyes out, they've probably got bigger problems than finding an emergency shortstop for a couple innings late in a game.
Now if we're still talking fantasy-world best-roster stuff, you'd probably want Kirk Nieuwenhuis and Lucas Duda on the bench. Neither has done much to show he can be a solid Major League pinch-hitter yet, but they both hit left-handed with power and have hit righties very well in Triple-A. Because there are so many more righty relievers than lefty ones (obviously), ideally a team would have more lefties than righties on the bench.
You do need a righty bat though, and a case could be made for Hairston. Though he's off to a brutal start, he's not terribly old and he has hit lefties well in the past. Plus he appears apt to back up center field, no small feat.
Of course, carrying a bench of Paulino/Thole, Turner, Duda, Nieuwenhuis and Hairston would give a team three backup outfielders and only one backup infielder, not a great balance. Righty-hitting Nick Evans is off to a slow start in Triple-A, but he could replace Hairston and play the corner infield (and outfield) spots.
But that's just an exercise. Young players should be given regular playing time, and Nieuwenhuis in particular needs to be in an everyday lineup.
But Duda and Evans are both 25, getting up past prospect age. Duda, as a lefty bat with way more power than Willie Harris, seems particularly apt to help the big club. Could Terry Collins get him enough playing time to justify keeping him around?
Harris certainly hasn't been wanting for playing time, and though that's mostly due to the injuries to Pagan and Jason Bay, a) there are always injuries and b) if Duda becomes the primary lefty bat off the bench and backup in left, right and at first, you have to figure there are 200+ at-bats for him somewhere. How much more valuable is playing every day in Triple-A than sporadic play in the Majors for a 25-year-old?
I don't know. Just thinking out loud here. The Mets' bench has been really bad, is all.