Imperfect circumstances call for creative solutions, and in recent weeks the Mets have kicked around many ideas for 2012. In that spirit, a well-placed front office source said it is "a possibility" that the Mets will move Jason Bay to center field next year.
That remains far from likely, the source said, but its consideration is interesting in what it reveals about the Mets' view of three players: Bay, Daniel Murphy and Angel Pagan….
As for Bay's defense, advanced metrics and scouts agree that he is a good left fielder — but the scouts say that center could be challenging for him. One metric, defensive runs saved, rates Bay as the National League's third-best left fielder, with two runs saved.
– Andy Martino, N.Y. Daily News.
What? No.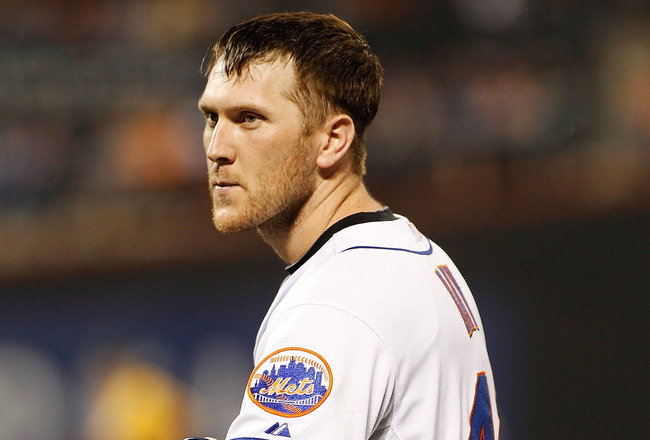 Moving Jason Bay to center field is an idea so crazy it's almost surreal — and not "crazy" as in "just crazy enough to work." It's just crazy enough to fail triumphantly.
For the last two seasons, Angel Pagan has been better than Jason Bay in just about every facet of the game. Pagan is a better fielder, a better hitter and a better baserunner. The only conceivable reason to replace Pagan with Bay would be if the team were desperate to save the $5 million or so Pagan will likely earn in arbitration. And even then they'd probably be better off with someone else in center, be it Jason Pridie or Kirk Nieuwenhuis or Scott Hairston or whoever.
Would moving Bay to center field help salvage his contract? No. While the offensive standards for center fielders are lower than they are for left fielders (though center fielders have outhit left fielders in 2011), Bay's defense in center would likely be so awful that it would render him worthless.
If the Mets believe Murphy is a better option in left field than Bay in 2012, they should simply bench Bay. Moving him to the more difficult defensive position to somehow justify his poor hitting would… man, it makes my head hurt almost as much as the thought of an outfield manned by Murphy, Bay and Lucas Duda.
As for that one advanced defensive metric: Advanced defensive metrics kind of suck. They're better than the other defensive metrics and they're the best tool we have to try to objectively rate defenders, but a single-year's worth of any of them means very little. They fluctuate too wildly. The same defensive metric cited above, defensive runs saved, put Bay at zero or less than zero in each of the past four seasons and has him at -12 for his career. Unless he magically got better in the outfield at age 32, his decent total in the stat this year is likely the product of randomness.
Fun fact: One advanced defensive metric, UZR, ranks Carlos Lee sixth among Major League left fielders with at least 500 innings in the position in 2011. Actually, according to defensive runs saved, Lee has been a much better defender than Bay this year. Presumably the Astros are considering moving Carlos Lee to center field next season.
I should probably ignore outlandish stories centered around ideas deemed "far from likely." They're obvious blogger-bait, and reacting to them only perpetuates the absurdity. But then everyone involved is looking for something to write about, and sometimes silly ideas help beat writers and bloggers both push the proverbial peanut.
So how about this? The Mets will consider moving Daniel Murphy to shortstop. It's not going to happen… but it could!