Amid widespread postseason reports of wholesale clubhouse wickedness — from intentionally muddling Ray Ramirez's perfectly rendered team health reports to framing Charlie Samuels to spraying some of that sour-tasting dog-ass stuff on Mike Pelfrey's hand to plotting arson on Lucas Duda's locker — Ronny Paulino got cut last night.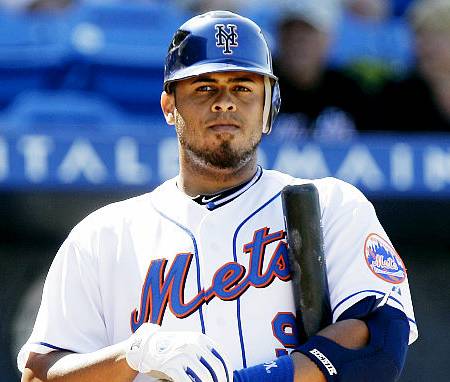 For what it's worth, I spent plenty of time around the clubhouse this year and never noticed anything vile out of Paulino. He seemed quiet, perhaps aloof — content to sit at his locker and entertain himself with whatever it is ballplayers do on their portable electronic devices (presumably the same thing I do: NBA Jam). I spotted him sharing important-seeming scouting-type stuff with Mike Nickeas a couple of times, and Paulino obliged whenever I asked him about catching various pitchers. (If I recall correctly, he did not participate in the team's late-developing Hawaiian-shirt day, but don't quote me on that.)
He didn't really do much else for the Mets, though, so his loss is not really one worth lamenting. After an awesome start to the season, Paulino finished with a typical .268/.312/.351 line and did little of his trademark damage against left-handers, maintaining only a small-sample .752 OPS against southpaws — well below his career .860 mark in that split. And his defense didn't look so hot either.
So for all those reasons, Sandy Alderson and the SABRos didn't deem Paulino worth whatever he would have made in arbitration and cut him loose on the unsuspecting baseball world. He'll undoubtedly turn up somewhere, and perhaps his knack for torching lefties will present itself in more opportunities and outweigh his poor defense and incendiary clubhouse presence.
Right now, the Mets have only Nickeas behind Josh Thole on the 40-man roster. Toby Hyde covered a lot of this yesterday: Nickeas looks to be a great defensive catcher, has a tremendous head of hair and is about the nicest guy you'll ever meet in a big-league clubhouse, but he's not much of a hitter. There's some new evidence (of which yours truly has made Nickeas aware) suggesting that catcher defense can save a team a lot of runs over the course of a season.
Perhaps Alderson's on board? Maybe the Mets have determined the runs they'll save with Nickeas' defense plus the roughly $1 million difference in payroll they'll have to allocate elsewhere will amount to more than the difference between the runs produced by Paulino or an offensive-minded catcher of his ilk and a light-hitting defensive specialist like Nickeas? Does that make sense?
So I guess, as an equation, it would look like:
(Runs saved by Nickeas – Runs saved by Paulino) + $1 million > (Runs produced by Paulino – Runs produced by Nickeas)
Or maybe they've got something else up their sleeve. Or maybe they're really just out of money.
The Mets also cut Whitestone native Mike Baxter last night, which raised at least a couple of eyebrows because it left only Kirk Nieuwenhuis and Fernando Martinez on the 40-man roster behind the starting outfielders. Baxter's no All-Star, but he's a lefty hitter and looked to be a decent defensive outfielder capable of backing up all three positions — probably a fine fifth outfielder.
After years of fretting over such moves I've learned it's silly to waste too many words on them in December, but it's a little funny that Baxter fell victim to the numbers crunch when he appears apt to fill a need for the club in 2012. Baxter's 2010 line from Triple-A Portland translates to a perfectly decent .260/.327/.422 line in Flushing, which would make him A) a very good bench player and b) way better than Jason Bay.