I meant to get to this yesterday but there was a meeting I forgot about. To the half-full outfield: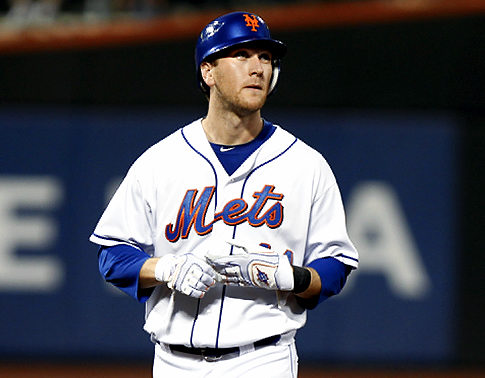 Left field: Jason Bay is probably the toughest Met to guess about here. If you think whatever happened to Jason Bay when he signed with the team was some sort of light-switch situation and that if someone or something to turns it back on he'll go right back to being the hitter he was in Boston, then maybe you could guess that the fences will make the difference and he'll put up an .880 OPS or something. I suspect that for a player of Bay's age it's more of a dimmer control than an on-off switch though, and that we should consider ourselves pretty lucky if something can move Bay's dial halfway back toward full intensity. That'd mean about an .800 OPS, which by last year's standards would actual put him in the upper tier of left fielders offensively. His defense is what it is.
Center field: It seems too much to ask for Andres Torres to repeat his outstanding 2010 campaign since he's now two years older and coming off a disappointing season. But if Torres can even hit to his Bill James projections of .255/.332/.405 and play his typically excellent defensive center field, he'll prove a fine addition.
Right field: Duda falls into the Ike Davis/Ruben Tejada/Daniel Murphy category: The best we can hope for from him offensively is that he puts up a full season of the production he showed in 2011. An .850 OPS will play anywhere, but Duda will need to prove he can handle right field, so in our optimistic projection, he shows he's at least not-terrible out there.
The rest: Actually, if you want to pen the most dream-world Polyanna scenario, you can hope a) Bay torches the ball in April, May and June, b) some slugger on a contending team with payroll flexibility gets hurt, c) Kirk Nieuwenhuis picks up right where he left off last year in Triple-A and quickly shows he's ready for the next level and then d) the Mets can trade Bay to the contender, shift Duda to left and call up Nieuwenhuis to play right without losing much. Though I guess if Bay is torching the ball, they would be losing much. So there's a paradox there.
I think you can pretty much ink in Scott Hairston for an OBP between .300 and .315 and a few big pinch-hit home runs. His optimistic, pessimistic and realistic projections are all about the same.
The fifth outfielder will probably hit left-handed, so you have to hope he can hit righties well because he's going to have a hell of a lot of pinch-hitting chances against them, given Terry Collins' appreciation for platoon matchups.
The Mets' starting outfielders can all boast elements of stardom: Torres has the defense, Duda has the power, Bay has the contract. None of them appears to be a complete player, even in a best-case scenario.
I should probably say now where I'm going with this: I'm using Fangraphs, looking over last year's positional leaderboards and making very rough estimates at Wins Above Replacement values for Mets if they perform to their most optimistic expectations.
If you're into that thing and on board with this exercise, take a stab at it: What would you say is the best total WAR the Mets could reasonably hope for from their position players?