In case you've somehow missed the news, Ruben Tejada is not yet in Mets camp. He is being delayed by visa issues reportedly stemming from a failed attempt to pick up his documents on a holiday. Tejada is still expected to arrive by Saturday, the mandatory report day for position players, but his inability to be at camp early has miffed Terry Collins and fired up some in the Mets' fanbase.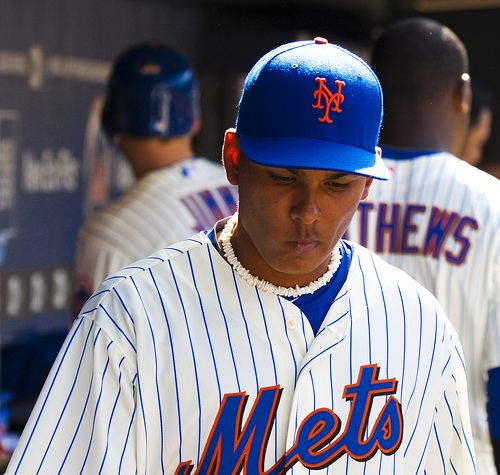 Here's the main thing: If Tejada plays anything like as well as he did in 2011, no one's going to remember this happened by March 15. It's likely being discussed now only for lack of other things to discuss.
Collins called himself "selfish" for being annoyed with his young shortstop, and admitted that he never told Tejada to arrive early — only suggested it. Plus, though Tejada will be paid handsomely to play for the Mets in 2012 and that implies some responsibility to the team, he's obligated to show up Saturday, not before.
Also, here's the other thing: Ruben Tejada is 22. Granted, I realize there are plenty of super-important, powerful and eminently responsible 22-year-olds, and we rely on people even younger than 22 to elect leaders and fight wars. But though I can't speak for Tejada or any other 22-year-old, I can say that at that age, I:
– Nearly set my house on fire three different times.
– Tricked my roommate into eating dog food, filmed it and broadcast it.
– Racked up double-digit campus parking tickets that are, to date, unpaid.
– Tackled some dude at a party.
– Blew up tons of stuff in my backyard.
– Engaged a bandmate in some mild, unreciprocated knifeplay.
– Drove several months on a donut tire with a duct-taped back window.
– Destroyed much of the leftover furniture in my house with a baseball bat to spite the next tenants who were unwilling to pay us for it.
– Launched water balloons into the outdoor patio of a local bar, occasionally from an elevated train trestle.
– Countless other things I'm not willing to publicly admit.
If you are currently castigating Tejada for his failure to show up early to Port St. Lucie, I urge you to at least consider some of the dumb things you probably did at 22, and how innocuous a missed appointment seems in comparison. Yes, Tejada signed up for this scrutiny when he inked his contract, but 22-year-olds be 22-year-olds.
Also worth noting: When I first spoke to Tejada (through a translator) in Binghamton in 2009, I asked him what he found to be the biggest adjustment he needed to make in Double-A — expecting he'd say that the pitchers are better, like most players say. He said he was still getting used to being away from his family.