Bottom line: Wright may not go for the jugular with the Mets, but it's hard to fathom him settling for less than Zimmerman's $126 million. And since Wright is on the record wanting his next contract to take him to retirement (which the Mets hope to accomplish though options), eight years would seem to be the minimum for which Wright would settle unless he's feeling benevolent.
Rubin makes a series of good points in his post and typically works with more information on the Mets than just about anyone. And I am a hopeful Mets fan, so my perspective is skewed by my bias.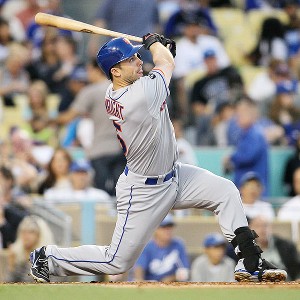 But I wonder if eight years and over $126 million seems a little steep for Wright. Zimmerman's second extension — the six-year, $100 million deal on top of his existing one — starts in 2014, when he'll be 29. Wright's already that old, and since the Mets hold an option on his contract for 2013, an extension beyond that will kick in when he's 31. But then Wright is a demonstrably better hitter than Zimmerman and has missed less time with injuries than Zimmerman has, so maybe that makes up for their difference in age.
There are some semantic issues at play, too — would we call a six-year extension on top of Wright's 2013 option a seven-year deal (as Rubin does in Zimmerman's case), since it puts Wright in the Mets' control through the end of the 2019 season? It doesn't much matter and I'm not sure if there's standard practice for clarifying these things in baseball writing, but either way I suspect there'll be some confusion ahead.
Completely uninformed, shot-in-the-dark guess: Wright gets six guaranteed years and roughly $110 million on top of the 2013 option with a couple of team options tacked on to the back, and the deal is framed as a seven-year, $126 million extension.
Another hunch: R.A. Dickey does not get an extension, but is not traded before if and when the Mets fall out of contention in 2013.