I planned on checking out some of Westchester's ample and beautiful bike trails today, but it's 43 degrees and raining here, so I'll have to sit inside, watch football and eat Buffalo wings all day.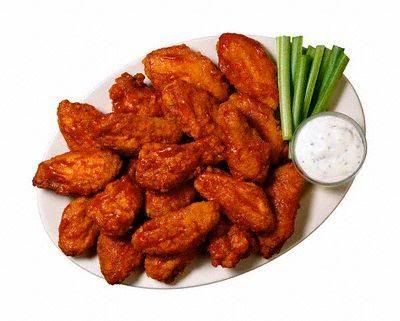 What a pity.
The single greatest thing about being an American, I think, and probably the only thing that reliably makes me feel patriotic, is the confluence of Buffalo wings and football. It is, without a doubt, a synergistic relationship. Both things are independently amazing, but together, they're Biblically awesome.
One of the millions of fascinating things about Buffalo wings is that they're one of the few spicy foods invented in a cool-weather climate. Traditionally, our spiciest (and often best) foods come from hot places. Think Mexico, Thailand and Jamaica.
I'm guessing this is because meat spoils faster in hotter temperatures, and so historically, spices were used both to preserve the meat and mask less-than-fresh flavor. I have no evidence of that, of course, but it seems to make a lot of sense. Plus hot peppers grow in warm climates.
But Buffalo wings come from Buffalo, which is a cold place. According to legend, they were first served at Anchor Bar in Buffalo and from what I understand, before they were first served at Anchor Bar, people didn't even eat chicken wings at all. They were used only for soup stock.
Each member of the Bellissimos, the family that owns Anchor Bar, tells a different Buffalo wing creation myth. That's another interesting thing about the Buffalo wing, I guess. I've been to Anchor Bar and eaten they're wings, and they're pretty good. Not the best wings I've ever had, but tasty enough to make me believe that they could start the wonderful trend that has since consumed the country.
The most interesting thing about Buffalo wings, of course, is how ridiculously delicious they are. And football is upon us, so I have to stop writing about Buffalo wings and start consuming Buffalo wings.
The purpose of this post, though, was to give a shoutout to the best wings I've found so far in the Westchester area. One of the saddest parts of leaving Brooklyn, for me, was leaving behind the amazing Wing Wagon on Flatbush and 7th Ave. in my old neighborhood of Prospect Heights.
But I was lucky enough to stumble upon So Dam Hot last week, and it proved to be a worthy successor to the throne of Local Place that Provides Me Delicious Buffalo Wings.
Also, it's in Valhalla, which means every time I go there I get Led Zeppelin's "Immigrant Song" in my head. So that's an added bonus.