I'm not sure I'm willing to go that far just yet, but the 32-year-old Cuban defector who came to the Mets on loan from Tabasco of the Mexican League is quietly quieting some doubters — this one included — in 2010.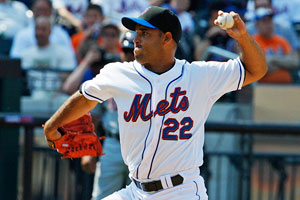 Valdes has struck out more than a batter an inning and more than three times as many guys as he's walked. And he has induced enough weak contact that it's reasonable to argue he's unlucky to hold a 3.20 ERA. He has yielded a high .361 batting average on balls in play despite an 18.8% line-drive rate, and his FIP is nearly a run lower than his ERA. Plus, in small samples, Valdes has actually been much more successful against right-handed batters than lefties.
Valdes' solid but unspectacular five innings in relief of John Maine last night has Mets fans speculating that Valdes could take Maine's place in the rotation if Maine is actually injured.
Dillon Gee has struggled of late for the Triple-A Bisons. Pat Misch has pitched well, but with predictably unexceptional peripherals. (Also, his name is an anagram for "Sh-t Camp." "Raul Valdes," on the other hand, is an anagram for "Larva Duels," which I imagine would be awesome to watch.)
The problem with starting Valdes is mostly that there's almost nothing in his past to suggest he's anywhere near this good. In the Minors from 2005-07, Valdes struck out 6.8 batters per nine innings and allowed a ton of hits. He was a starter for most of it, so it's reasonable to expect he would pitch a bit better in a relief role. Not this much better, though.
Way, way crazier things have happened in samples this small, so the early success is not necessarily an indicator that it's all suddenly clicking for Valdes, or something like that.
But since Valdes hasn't pitched in the U.S. since 2007, there's some chance he picked up a new pitch or approach in Mexico that has made him more effective. I can't find any Mexican League stats for Valdes, so I don't even have any clues. There's not much about Valdes' tenure in Mexico in Adam Rubin's excellent profile of the pitcher from last month.
Finally, I'm open to the possibility that the Valdes pitching for the Mets is the beneficiary of some sort of international identity conspiracy. Mostly I'm open to that because I think it'd be kind of awesome and not because I think it's actually plausible, but check this out: Not only is Valdes pitching far better at the Major League level than he ever did in the Minors, but the headshot on his MiLB.com player page is clearly not him.
Could that be the real Raul Valdes, the one who suffered a 6.30 ERA in 131 1/3 Triple-A innings? Did the Olmecas de Tabasco loan the Mets a ringer?
No, probably not. But it'd be pretty sweet if they did.