I'm trying to find some silver lining today, which is difficult in the wake of Jose Reyes' departure and especially while nursing a not-insignificant hangover. And anyone who has read this site or listened to the podcast with any regularity knows how thoroughly down I am on prospects in general, and on putting so much stock in guys who haven't done anything at the Major League level.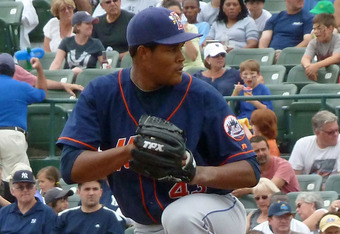 But it has kind of come to that for the Mets. If this team is to be a legit contender within the next few years, it's going to need its prospects to pan out. And if all goes incredibly well, we might start getting a glimpse of that this season. So there's something. Hey!
My understanding is that the club would (understandably) like its pitching prospects to throw a certain number of innings above A-ball before they're advanced to the Majors. I don't know that it's a hard-and-fast total, but I believe it's between 100 and 150. Paul DePodesta has said multiple times that it's important for pitchers who come up to the Majors to never have to return to the Minors, which always reads to me like a criticism of the way Omar Minaya and Jerry Manuel handled Jenrry Mejia.
Anyway, Jeurys Familia threw 87 2/3 strong innings in Double-A last year and Matt Harvey threw 59 2/3. If they both start off strong and stay healthy (huge ifs, of course), and guessing that the Mets want them to have about 130 innings of upper-level Minor League experience before they join the big club, it's feasible we could see Familia with the big club by Memorial Day and Harvey by the All-Star Break.
Mejia should return from Tommy John surgery sometime during the season and could — again, if all goes well — join the Major League team by the end of the year. Zack Wheeler is likely ticketed for a full year of Minor League pitching, but if he stays healthy he should hit that ~130 innings mark in 2012 and be a candidate for a Major League rotation spot sometime in 2013.
So in a perfect-world scenario, there's a chance the Mets could have four highly regarded pitchers under 25 contributing to their Major League club by early in the 2013 season.
Is that likely? Nope. It would take smart handling and an unbelievable run of good fortune. And maybe the Mets are due for that.