In regards to actual September call-ups, I expect to also see Jenrry Mejia and Robert Carson return to the roster. And I hope to see Jeurys Familia as well, since most insiders I talk to think he could be a terrific closer rather quickly. It might also be smart to get 3B Zach Lutz some at bats at this level to see what he's all about…
In addition to presenting the news that Lucas Duda has missed the last four games in Buffalo with "dental issues," Cerrone predicts which young Mets will join the big club when rosters expand in September. That list seems reasonable to me. I'd guess Elvin Ramirez and Pedro Beato come back too, since they're on the 40-man roster and have arms.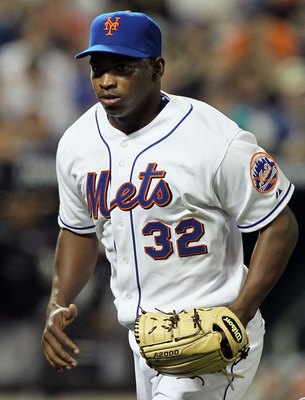 The other Minor Leaguers currently on the 40-man? Rob Johnson and Mike Nickeas, both of whom we're familiar with, plus Kirk Nieuwenhuis, Wilmer Flores, Reese Havens, Juan Lagares and Cesar Puello. Nieuwenhuis is hurt and Puello hasn't hit in A-ball, so neither of them seems likely to see lockers in Flushing.
Lagares hasn't repeated his 2011 success in Binghamton in 2012, though he has been a bit better since the All-Star break and does hit right-handed, play the outfield and steal bases — three things the Mets might want to check out. Havens, depressingly, has missed the last week with a stiff back after hitting pretty well in Double-A since June. Flores has posted a very Murphish .297/.343/.434 in his first 48 games at Double-A, but he's only 20 and still in the process of finding a home on defense.
Familia has been up and down (and more down than up) all season in Triple-A, but he's made two straight strong starts (after three clunkers) and hasn't thrown as many innings yet as he did last year. So maybe he gets a call and a taste of big-league action before he heads back to the Minors next year to work out his control issues.
The most interesting guy on Cerrone's list is Mejia. What's the deal with Jenrry Mejia?
Once compared to Mariano Rivera by people who should not have been making such comparisons, Mejia struggled in the Bisons' bullpen. Supposedly he paces himself better as a starter and tended to overthrow in a relief role. The results suggest something similar: Mejia has a 5.48 ERA in 16 relief appearances at Buffalo and a 0.95 ERA in six starts. Tiny samples abound, though, and Mejia's underwhelming rate stats have not been way different as a starter than they were as a reliever. Also, his ERA as a starter has benefited from seven unearned runs. I didn't see any of them and I can't say to what extent they've been the fault of his defense, but it seems safe to say he hasn't been nearly as good as his ERA.
The big thing about Mejia, though — or one big thing about Mejia, at least — is that 2013 will be his final option year, meaning despite Mejia's age, the Mets have limited time to figure out what to expect from him at the Major League level. That's a shame, because it seems like more than anything he needs some reps: Mejia has thrown only 68 2/3 innings this season, has yet to throw 100 innings in any season at any level, and only has 86 innings across three seasons at the Minors' highest level. By all accounts he has terrific stuff, but the stats say he hasn't honed it yet.
That's not all his fault, obviously, but he's going to need to do so pretty soon if he's going to make good on his prospect pedigree for the organization that signed him six years ago.